Our vision
A professional ecosystem of hospitality that offers great experiences and quality of life for everyone.
We believe that we will achieve this by creating educational products, services and institutions motivated by our vision and values.
---
Our founding values and corporate ethics are described by our six values.
Dignity
First and foremost for us is the value of dignity. We believe that through respect, kindness, decency and impartiality, honesty and mutual understanding we can make our world a better place.
Reliability
With consistency, responsibility, integrity and transparency we create high quality educational products and services.
Effectiveness
Experience, knowledge, preparation, adaptability and ownership characterise our work. We are motivated by increasing the efficiency of products and services, with innovation and technology making the lives of all of us easier.
Self confidence
We have know-how and a positive attitude in what we do and we partner with others that act likewise. We want to "move" at high speed when we can and it is possible. We highlight and support all efforts and actions, independent origin, that help realise our vision. We collaborate and play as a team with those we share the same values with.
Naivety
We want to be naive, because we believe that nothing is for granted. Someone may know something we do not know. We have an unquenchable thirst for knowledge and learning, we do our research and try to substantiate our positions, we tell the truth even if it is not in our favour.
Sustainability
We believe that sustainability can be achieved through empathy, ecological awareness and the balance of private, social and professional life. For us it is the only eligible path to wellness and well-being that will help us realise our vision. We try to promote resource saving, reuse and recycling of packaging and products and anything else makes sense in this direction.
---
Legal Entity
Lifelong Learning Centre licensed by the Greek Ministry of Education. The Bar Academy and Athens Bar Show trademarks are registered with the Greek Ministry of Development.
---
The Education System of Bar Academy
The educational system is divided into levels depending on the work and educational background of the student. The training programs are restructured, renewed or upgraded whenever necessary, following the modern trends of the professional ecosystem of hospitality and hospitality.
Level 1: are programs that lay the groundwork for the job. We believe that everyone should start at these programs. They are addressed to those with little (up to 3 years) or no work-experience in the hospitality industry and without having attended a complete training program for their chosen profession. For this level, our academy has programs aimed at Bartenders, Baristi, business-owners, Bar Managers, and junior or senior assistants.
Level 2: is aimed at those with at least 3 years of experience and have attended a comprehensive training program for the respective profession, or those that have completed our academy's Level 1 training. Candidates for this level of training will go through an evaluation prior to joining. For this level, our academy has programs aimed at Bartenders, Baristi, business-owners, Bar Managers, and junior or senior assistants.
Level 3: is aimed at those with at least 5 years of experience in the position and having done Level 2 of our academy. Those interested will go through an evaluation to join this level if they want to participate. Candidates for this level of training will go through an evaluation prior to joining. For this level, our academy has programs aimed at Bartenders, Baristi, business-owners, Bar Managers, and junior or senior assistants.
Level 4: is aimed at those with at least 5 years of experience in the position or who have completed Level 3 of our academy. Those interested will go through an evaluation to join this level if they want to participate. Candidates for this level of training will go through an evaluation prior to joining. For this level, our academy has programs aimed at Bartenders, Baristi, business-owners, Bar Managers, and junior or senior assistants.
---
Our History
The Bar Academy was established in October 2007 at 14 Evpatorias street in the area near the Ampelokipoi metro station in Athens. Below are a few important moments of our history. 
The first programs of the academy were the Bartending, Barista, Flair Bartending & Bar Management Seminar. The facilities consisted of a room for all the above programs. Structured training for hospitality professionals was, at that time, considered a luxury and in some cases unnecessary.
In October 2008, the Winter Whiskey Cocktail Workshop was organised on the subject of whiskey cocktails with the aim of promoting whiskey cocktails. Respective programs with rum, tequila, gin and vodka followed.
In 2009 Bar Academy organised its first International Masterclass titled "The Rum Experience" by Ian Burrell. At the end of the year, the academy moved to new facilities at 28 Velestinou Street in Ampelokipi and inaugurated them with an International Masterclass on Japanese Bartending culture by Stanislav Vadrna and launched the Advanced Bartender Seminar, the Homemade Seminar, the Molecular Mixology Seminar (these will evolve into the Intermediate Bartending Seminar and Bartending Seminar 2, the Bartending Seminar Level 3 and Zero Waste Creative Techniques). The Latte Art Seminar is also launched this year.
In 2010 the series of International Masterclass continued with guests Angus Winchester, Philip Duff, Salvatore Calabrese. The academy is tasked with undertaking the first Angostura Global Cocktail Challenge and Disaronno's competition, The Mixing Star. At the same time, preparations were made for The Bar Academy Show with the motto "Greece in the golden age of cocktail" - this event took place in November of that year during the Xenia exhibition.
2011 was a very difficult year for Greece but also for the academy as it adapted to the new reality but did not stop inviting international experts such as Tomas Aske, Tristan Stephenson, Anistatia Miller, Jared Brown, Leonardo Leuci & Tomas Estes. It organised the 2nd "The Bar Academy Show" towards the end of November.
In 2012 it undertook the restructuring, communication, execution of the Skinos Mediterranean Cocktail Challenge. Transferred its premises to a new location, at 36A Lambrou Katsoni Street in Athens -and remains to this day- and launched the Intermediate Bartender Seminar, that will later develop into the Bartending Seminar Level 2. "The Bar Academy Show" name was changed to "Athens Bar Show" which already was the name used by many visitors and international guests. The location of the event also changed - it was moved to the centre    of Athens, at "The Hub Events" complex in the area of ​​Petralona and the motto also changed from "Greece in the golden age of cocktails" to "Stirring the future of bars".
In 2013, "Bar Talks" was announced - a platform aimed to highlight ideas that are advancing the hospitality industry and more specifically bars. The Bar Talks took place during The Athens Bar Show and videos of the speeches were posted on the internet and the platform's website. In the following years the platform was absorbed by the Athens Bar Show and the Bar Academy TV was created in 2016.
In 2014 the Athens Bar Show was transferred to the Technopolis of the Municipality of Athens venue, and the academy trained more than 500 people in one year.
In 2015 it undertook the organisation and execution of Bartending seminars on behalf of InSETE (institute of the Association of Greek Tourism Enterprises) in Athens, Thessaloniki and Heraklion. Created facilities in Thessaloniki at 7-9 Ioanninon Street near the French Institute.
In 2016 it created #BarAcademyTV, an information and entertainment medium for the hospitality ecosystem. The first show is Bar Academy News, a news program with content aimed at our professional ecosystem. The shows are published through the platforms Facebook, YouTube and Instagram. It renewed the Bar Management Seminar and transformed it into a complete program aimed at entrepreneurs or future entrepreneurs and executives. In October, "The Coffee Show" organised an educational exhibition on coffee aimed at professionals. During the Athens Bar Show of that year, the Innovathens building (Building 8) offered space to new, pioneering and innovative companies of the industry.
In 2018 it opened its facilities in Nicosia, Cyprus and at the same time organised the 2nd The Coffee Show. Supported Difford's Guide Greece and co-organized the Aegean Cocktail and Spirits Festival at the 360 ​​Cocktail Bar in Athens. Dedicated part of the Athens Bar Show training program to Bar Management and invited experts from around the world to talk about practices and case-studies.
In 2019 it undertook the creation, organisation and execution of seminars on financial management and new trends in the bars in Athens, Thessaloniki, Heraklion, Rhodes and Chania. It organised the 10th Athens Bar Show attracting more than 10000 visitors from Greece and from 51 countries from 4 different continents.
In 2020 the facilities in Nicosia-Cyprus are closed but the educational and consulting activity is maintained. The company structure and its services in Greece are reconstructed and restructured. It organised free distance seminars for the industry before the lockdown was lifted and invited Brand Ambassadors to share their knowledge through the academy platforms. Announced the Bar Management Webinar in July fully consistent with the in-person version, both in content and quality.  The Thessaloniki branch moved to new, larger facilities at 74 Venizelou Street, a few metres from the Roman market. The 3rd level Bartending Seminar is discontinued during a radical upgrade of all 3 levels of Bartending, to keep them current to the trends and needs of the industry. Undertook the organisation and execution of the remote event "World Class Studios" of the global platform of World Class.
In 2021 launched the Juniper Expert seminars, remotely due to limitations, the Rhum Agricole Tasting Forum, the Budget for Hospitality Business, the Strategy for Hospitality Business, Leadership and Efficiency in Groups, which would transition to in-person form when the conditions would allow. Undertook the organisation, communication and execution of the World Class Greece Finals live-stream from its facilities.
#BarAcademyHellas #BarAcademyofGreece #BarAcademySKG #BarAcademyThessaloniki #BarAcademyCyprus
#AthensBarShow
#BarAcademyTV #BarAcademyNews
Our Team
Speakers
Babis Kaidalidis
FOUNDER / MANAGING DIRECTOR GREECE AND CYPRUS
He has been active in the hospitality industry since the early 90s. He began to study computer science, but the hospitality industry, and specifically the bar, won him over. Since 2000 he has worked as a bartender, a staff trainer, and head of training development in american restaurants.

Having loved bartending and education, he took part in national and European competitions and attended courses in Greece and abroad to improve himself as a professional. In 2007 he created Bar Academy and set up the first seminars. In 2010 he launched the Athens Bar Show and in 2016 The Coffee Show.




During his career he has organized hundreds of educational programs for bartenders and baristi, cocktail competitions and events. Currently, he is the managing director of Bar Academy in Greece and Cyprus, a trainer for several Bartending & Bar Management seminars and the producer of Athens Bar Show & The Coffee Show.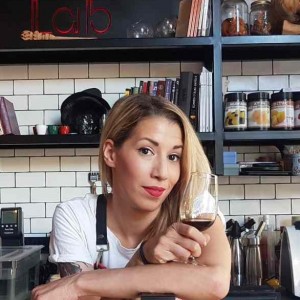 Χρύσα Τσάμπου
ΕΙΣΗΓΗΤΡΙΑ
Η Χρύσα Τσάμπου είναι απόφοιτος Τουριστικών Επαγγελμάτων. Από το 2003 εργαζόταν στον Ξενοδοχειακό και επισιτιστικό τομέα, αλλά συνειδητοποίησε ότι ο προορισμός της ήταν η καριέρα στο Bartending. Ξεκίνησε μια σειρά από σεμινάρια στην Bar Academy ώστε να αποκτήσει τις απαραίτητες γνώσεις και να εξελιχθεί.
Έχει λάβει μέρος σε Cocktail διαγωνισμούς και από το 2017 έχει αναλάβει τον τίτλο της Brand Ambassador για το Disaronno σε όλη την Ελλάδα.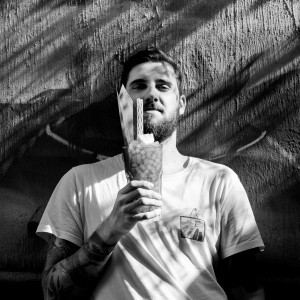 Κωνσταντίνος Βασιλακόπουλος
ΕΙΣΗΓΗΤΗΣ
Ο Κωνσταντίνος είναι συνιδιοκτήτης και Bartender στο 9Β Home Bar στο Χαλάνδρι. Brand ambassador για το European group του Saint James Agricole Rhum, Rum Ambassador για την εταιρεία Drinks & Co. και μέλος του παγκόσμιου guild, Agricole Rhum Defenders.
Έχει κάνει εκπαιδεύσεις, σεμινάρια και παρουσιάσεις σε μεγάλα show σε Ελλάδα και εξωτερικό.
Αγαπά να ταξιδεύει στην Καραϊβική ώστε να μαθαίνει περισσότερα για την κουλτούρα των ανθρώπων και το ρούμι.
Τρέφει ένα ιδιαίτερο συναίσθημα για τα agricole Rhums και λίγο περισσότερο για αυτά που "κατάγονται" από την Μαρτινίκα.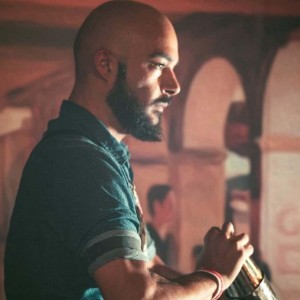 Κώστας Λύτρας
ΕΙΣΗΓΗΤΗΣ
Ο Κώστας Λύτρας ξεκίνησε την σταδιοδρομία του στον χώρο της εστίασης το 2004 ως μπαρίστα σε μεγάλη αλυσίδα καφέ. Η αγάπη του για τον χώρο τον ώθησε να ασχοληθεί με το χώρο του αλκοόλ και μετά από ένα πέρασμα από Αμερικανικό εστιατόριο ξεκίνησε στο Φάλτσο Μπαρ στο Μαρούσι. Ακολούθησε για 4 χρόνια σαν συνιδιοκτήτης σε Cocktail Bar και πέρασμα από γνωστά Bar είτε ως bartender είτε ως Bar Manager( h.o.s.t. , 9Bita Home Bar, Paliatsos All Day, Juan Rodriguez) . Απόφοιτος της Bar Academy, έχει λάβει μέρος σε διαγωνισμούς ( Tahona Society, Diplomatico WT, Beefeater Lndn) και έχει παρακολουθήσει πλήθος σεμιναρίων.
Πλέον έχει «κρεμάσει σεικερ» και από το 2018 εργάζεται σαν Key account manager στην εταιρεία Μέλι Αγγελικής.
Τα τελευταία χρόνια εργάζεται και ως Εισηγητής στην Bar Academy, προσπαθώντας να εκπαιδεύσει σωστά τους νέους επαγγελματίες.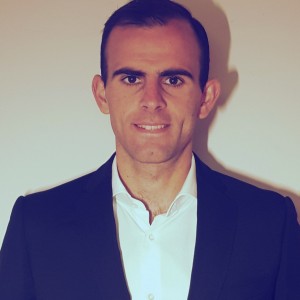 Petros Pali
ΕΙΣΗΓΗΤΗΣ
Το ταξίδι στων χώρο της φιλοξενίας άρχισε το 2005 στην Άφυτο Χαλκιδικής από βοηθός σερβιτόρος έως Bar Manager. Σταθμοί ήταν το Fortuna Bar, Sani Resort, και Café Balkan Thessaloniki. Στην συνέχεια ακολούθησε o Scorpios στη Μύκονο για 6 χρονιά ξεκινώντας από Head Bartender έως Beverage & Floor Manager και Bar Operation στο Soho Roc House.
Πλέον Beach Club Manager στο Amanzoe Resort.
Η παρακίνηση και διαχείριση ομάδων αποτελούν το πάθος και τον πυλώνα στις συνεργασίες μου.
Σπουδές
2019 – 2021 MSc International Hospitality Management.
WSET Award in Wines Levels 1,2,3.
WSET Award in Spirits 1,2.
Bar Academy Bar Management.
European Bartender School Barcelona, Advanced Bartending.
Aristotle University of Thessaloniki, bachelor's in physical education & Sports Science.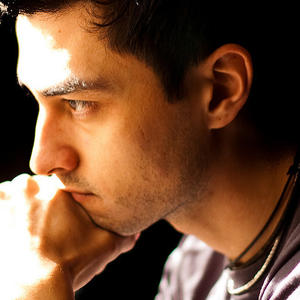 Yannis Simantiras
CFO & MARKETING DIRECTOR/ BAR MANAGEMENT INSTRUCTOR
Since 1996 he has been working in the restaurant sector to support his studies and gain working experience in Greece and Great Britain, where he graduated from BA (Hons) European Business Studies at Anglia Ruskin University Cambridge.
Returning to Greece, he is now convinced that his future is in the F&B sector and continues as a bartender at an international bar-restaurant chain (T.G.I. Friday`s).
He will soon be promoted to Bar Manager for approximately one and a half years, then to a Food Quality Manager (in-store) and one and a half years later he is promoted as Store General Manager, responsible for budgeting, financial management and acquiring, maintaining and developing human resources.
Efficiency, attention to detail and his love for education becomes an opportunity to work with Carlson Restaurants Worldwide as an instructor / trainer at GM`s Seminar (Seminar for Branch General Managers).
Since 2011 he has been a shareholder in Bar Academy, where he is CFO and Marketing Director.
He has attended numerous conferences and seminars on a variety of topics, such as HACCP, food and beverage safety (EFET), online marketing & advertising, social media marketing and project management.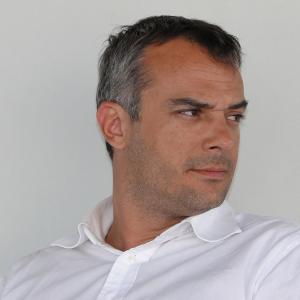 George Papadogoulas
BAR MANAGEMENT INSTRUCTOR / WHISKY EXPERT
George Papadogoulas is a graduate of the Tourism Department of Technological Educational Institute of Athens and holds an MBA in Tourism from the University of Piraeus. Since 1988 he has been working in the hotel and restaurant sectors, reaching the position of Director in both sectors. He works professionally with the tasting of Whiskey and other alcoholic products. He owns a consultancy company for HO.RE.CA. businesses, specializing in F&B. He collaborates with magazines by writing articles on alcohol and responsible consumption. He was a member of the writing team that created for OEEK the IVT`s specialization in Barmen education. Since 1998 he has been teaching in public and private educational institutions, including TEI, IVT, VTC., and has also been a course material inspector for I.S.T. College.

He has presented in 4 National Tourism Conferences in subjects relating to F&B Management.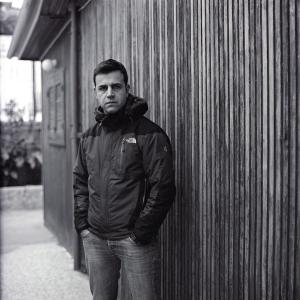 Spyros Patsialos
BARTENDING INSTRUCTOR/ GIN EXPERT (ATHENS)
Spyros Patsialos has been involved in cocktail since he worked as a waiter in his pre-university years.
Until he obtained his degree as Automation Engineer from the Technological Educational Institute of Piraeus, he was working as a bartender, and his travels to Germany for Robotic Seminars gave him the opportunity to visit the local bars and admire bartenders` techniques.
In 2006 and for the next three years he worked as a bartender on behalf of large beverage companies, thus having a period in which he was given the opportunity to work behind dozens of different bars, serving a wide variety of consumers with different requirements. Since 2009 he has been a bar trainer educating new employees in the cocktail catering sector.
In 2010 he was one of the world`s 12 bartenders who participated in the G`Vine Connoisseur Program and won the 6th place. That same year he won the second place in the nationwide competition of Angostura and 1st place in Bartender`s Challenge during "The Bar Academy Show". In 2011 he took 4th place in the global competition of the Skinos Mediterranean Cocktail Challenge and was selected to participate in the international project of ouzo "Plomari".
He has been a judge in national competitions: "Disaronno Mixing Star 2010", "The Angostura Cocktail Challenge 2011", "The Bartenders Challenge 2011".
He is also a judge at the Institute for Cocktail Excellence Society (ICE). In 2012 he was awarded as "MVP of the Bar Industry". He holds the ipBartenders Certificate and BarSmarts USA and has acquired WSET Professional in Spirits and WSET Intermediate Certificate in Wines.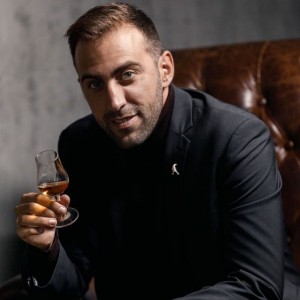 Stelios Papadopoulos
BARTENDING INSTRUCTOR/TEQUILA EXPERT
Papadopoulos Stelios is Brand Ambassador of Tequila Jose Cuervo, but also a man who has spent most of his professional life exploring the magical world of agave. Acquiring an in-depth knowledge of this category he was recently recognized by the National Chamber of the Tequila Industry as the first non-Mexican Tequila Connoisseur.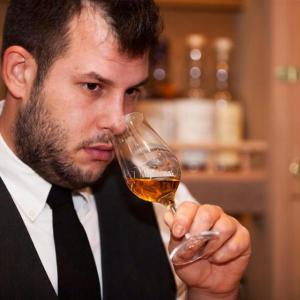 Panagiotis Fragkos
BARTENDING INSTRUCTOR (ATHENS)
Panagiotis aims to acquire and improve his knowledge, skills, and abilities in Bartending and cocktails.
He has attended Bar Academy's seminars and many other seminars & workshops by world-class bartenders.
Since 2009 he has been working as a bartender, head bartender and has been creating cocktail lists for many bars and restaurants while he is an active member of the team with Chef Athenagoras Costakos GASTRONOMY PROJECT BILL & COO.
He has excelled in competitions he has taken part. In 2011 he won 1st Place General Work Shop Belvedere Vodka with the cocktail: Chamomile Grapefruit Martini and the 4th General World Class Athens Place with the cocktail: Triangle Drink. In 2010 he won the 1st Tasting Place - Young Bar Tender Hellas with the cocktail: Apple Pie Cocktail.
Panagiotis works at the Michelin Star restaurant-bar, Hytra and has collaborated with beverage companies and magazines for cocktail presentations and proposals.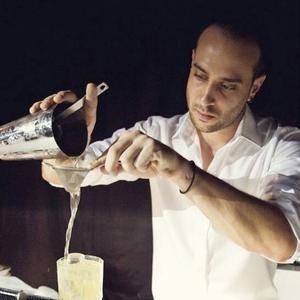 Alexandros Kontinis
BARTENDING INSTRUCTOR (ATHENS)
Alex had his first contact with spirits at the age of 17, in his homeland Corfu, where he started working as a bartender.
He moved to Athens and studied Food & Beverage Management and Marketing.
He has attended seminars by Greek and foreign renowned professionals on spirits, beer, wine, and mixing techniques.
He has undertaken several menu creation projects for bars, cocktail bars, bar restaurants as well as staff training.
He has successfully completed all seminars of Bar Academy, has worked at events organized by our academy as well as at the Athens Bar Show.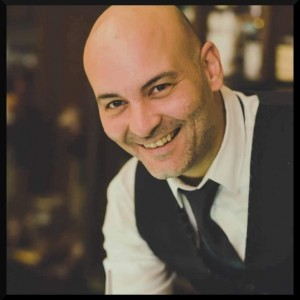 Sakis Stoilis
BARTENDING INSTRUCTOR (THESSALONIKI)
Sakis` passion for Bartending is probably in his DNA, since he started working from a very young age, in his father 's restaurant in Thessaloniki.
Since 1990 and for the next 15 years, Sakis has made a professional "journey" of the most famous bars, clubs, and restaurants of the city, discovering all positions and thus gaining an overview of the ultimate experience of the bar. In September 2009, he decides to go deeper into what he loves, investing academically now, in professional bartending. On the other side of the Atlantic, in Toronto, Canada, he attends a series of "Master Class & Bar Chef" seminars, and after returning to Greece, he continues training through seminars by professionals.
His professionalism and expertise have shined through many competitions, such as Sauza Tequila - "Dare to live it" 2015 and Appleton Rum competition 2010.
Significant moments in Sakis` career are his collaboration with Menheim's Flic Flac bar in Germany - the cocktail list design and implementation project and staff training, as well as his work as a bar manager at the Finix Casino & Hotel in 2013. Dozens of other bar and bar-restaurant partnerships in northern Greece, as a bar consultant, make-up the puzzle of his significant bartending experience.
For over 3 years, Sakis has taken on the title of Brand Ambassador of Ocean Spray Cranberry and Britvic mixers and is a permanent partner of World Beverage in the promotion of Gins Boodles and Brokers.
Today, he is a brand ambassador of Concepts' products.
If you want to taste some of his signature cocktails, you will find it at Olympico bar in Thessaloniki.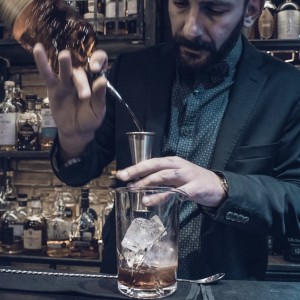 Theodore Anagnostou
BARTENDING INSTRUCTOR (ATHENS)
"I think I got excited with the hospitality industry and specifically bars sometime between the ages 14 and 15 when I spent a month with my grandfather in Munich where he owned a beer house.That atmosphere amazed me and I immediately asked him to jump behind the bar!!
Later and while I was already studying in the department of biology in the National University of Athens (since 2001) I worked in several positions in the hospitality business, and I acquired knowledge and experience that I still use in my work.
It soon became obvious that my destination would be the bar industry and once I started working in bars, the next step would be to evolve within my chosen profession, so I attended several seminars in Bar Academy!
There my excitement about the bar industry grew bigger, and I am still, always looking for every way that will help me get more knowledgeable and more skillful in my profession.
During the last seven years I`ve worked for two, in my opinion, great bars in the center of Athens; "A for Athens" and "CV Distiller" and I still hold the position of "head bartender" in the latter.
I love great spirits and while I always love and get excited for any information about spirits and constant personal evolution, as a human being I do have preferences and in my case my love for whisky is very big."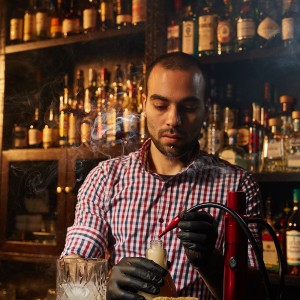 Nick Delivorias
BARTENDING INSTRUCTOR (ATHENS)
At the age of 18, he found himself working incidentally behind the bar and immediately felt that Bartending was his "professional destiny."
Having a high desire to offer cocktails that activate vision, scent, and taste, he began attending Bar Academy`s bartending seminars where he got introduced to Molecular Mixology which intrigued him.
He attended a series of specialized seminars on molecular gastronomy and creative arts by Greek and foreign trainers.
He collaborated with "ASTRA" in Mykonos, and he has undertaken a pioneering project, where cocktails are prepared in the kitchen with applications of molecular gastronomy and mixology.
He has worked in prestigious Cocktail Bars, Bar Restaurants has created Signature Cocktails lists in hotels, restaurants, and bars of Athens and has also been training their staff.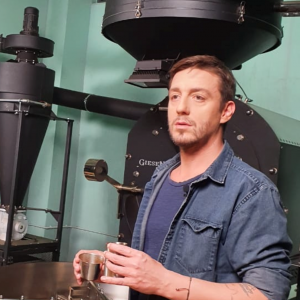 Thanasis Nikolis
BARISTA INSTRUCTOR (ATHENS)
Thanasis Nikolis has been working in specialty coffee industry for 15 years as a Barista, head barista ,barista trainer ,roaster as well as personnel manager and coffee consultant.
For the last four years he is the Head Roaster and Barista Trainer Supervisor for Kudu Coffee Roasters.
He has taken courses in Management & Administration of Tourism Enterprises and over the years he has successfully competed in barista competitions and achieved the following rankings:
- 2nd in the National Barista Championship of 2012
- 1st in the National Barista Championship of 2013
- 11th in the World Barista Championship of 2013
- 2nd in the National Barista Championship of 2016
- 2nd in the National Roasting Championship of 2017
He has been awarded the Coffee Diploma system and is an active member of the SCA since 2011.
For the last two years he is also an active member of the SCA Hellas council, elected as Communication Coordinator.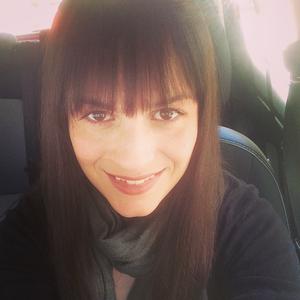 Kiki Agriti
BAR MANAGEMENT INSTRUCTOR - FOOD SCIENTIST
She is a graduate of the Department of Food Technology of the Athens University of Applied Sciences and holds a Master of Science in Food Science and Technology specializing in Food Quality Management.

During her studies, she attended seminars on hygiene and safety of food, and she has been awarded the Level 3 Award in HACCP for Food Manufacturing from the Royal Society for Public Health of England.

She was working at restaurants until her internship at a food analysis laboratory.

She began her career as a Quality Assurance Manager in a fish importing company.

Subsequently, she worked as a Food Company Consultant on safety and quality of food.

She is currently working as a Production Manager at a company which produces liquids for electronic cigarettes.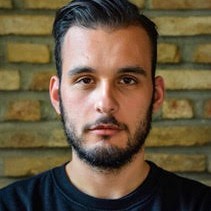 George Delichristos
BARISTA INSTRUCTOR (ATHENS)
George Delichristos took his first steps in coffee at the young age of 19 in the first micro-roastery in Greece.
For the last 3 years, he works as a barista. In addition, for the past year, he is also a roaster at the award-winning company The Underdog.
He holds an SCA Coffee Diploma and he is an active member of SCA since 2013.
His passion for specialty coffee led him to coffee-producing countries like Panama to see the methods of coffee growing and processing.
Achievements for which he is very proud:
1st place at the National Coffee Roasting Championship 2018
2nd place at the National Latte Art Championship 2013
2nd place at the National Aeropress Championship 2018
3rd place at the National Brewers Championship 2018
3rd place at the National Aeropress Championship 2017
4th place at the National Cup Tasters Championship 2018
5th place at the National Brewers Championship 2017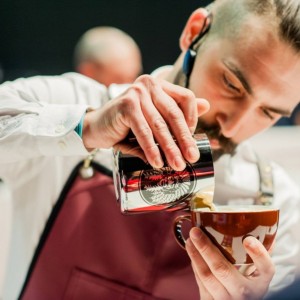 Michalis Karagiannis
BARISTA INSTRUCTOR (ATHENS)
Michalis Karagiannis began his journey in 2011 when Christos Kavrakos urged him to attend his first coffee seminar. After a lot of practice with coffee, the first big step came along when he started working at Tailor Made. This was a milestone for his career path.
When he started making his first "tulips", he came to the point of falling in love with Latte Art and dedicating himself to it!
His goal was to attend even more seminars in order to perfect his techniques. He devoted himself to this and took part in several competitions.
Greek Latte Art Champion 2016, 2017 & 2018
2nd in World Latte Art Championship 2017 & 2018
8th World Latte Art Championship 2016
Final 16 World Latte Art Battle 2016
In 2016 his passion led him to a competition in Korea, at the 'source' of Latte Art, where he studied for 15 days next to the best Latte Artists.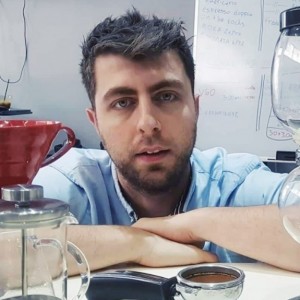 Γιώργος Τσαλικίδης
ΕΙΣΗΓΗΤΗΣ
Ο Γιώργος Τσαλικίδης άρχισε την ενασχόλησή του με τον χώρο της εστίασης στα 15 του. Πιο ενεργά όμως ασχολήθηκε από τα 18 και μετά, σπουδάζοντας παράλληλα στο τμήμα Οικονομικών Επιστημών του Αριστοτελείου Πανεπιστημίου Θεσσαλονίκης.
Σιγά σιγά, τον κέρδισε ο υπέροχος κόσμος του καφέ, παρακολούθησε ποικίλα εκπαιδευτικά σεμινάρια και έγινε μέλος της SCA.
Δουλεύοντας σε επιλεγμένα καταστήματα της Θεσσαλονίκης, άρχισε συγχρόνως να παίρνει μέρος σε project οργάνωσης και σχεδιασμού bar ξενοδοχείων, garden bar, κτλ. Φιλοσοφία που ασπάζεται είναι ότι καφές και αλκοόλ αποτελούν συγκοινωνούντα δοχεία για έναν χώρο εστίασης.
Ήταν μέρος της ομάδας " B&W Spirit Evolution" και άρχισε παράλληλα να διδάσκει την τέχνη του barista σε ΙΕΚ της πόλης.
Είναι barista trainer και quality control manager για την Βόρεια Ελλάδα στην εταιρία καφέ ''Vergnano'' από το 2018 και συνεχίζει την διδασκαλία ως εισηγητής της Bar Academy.